Weddings at The Palms Cliff House Inn
We love weddings here at The Palms Cliff House Inn. And since we are a small property we can ensure that your special event will be intimate and truly special.
This 4 minute video will give you an idea of what a wedding held at The Palms Cliff House Inn can be like. The video is a compilation of several weddings that have been held at this Inn over the past few years.


Please give us a call to set up an appointment to meet with our wedding coordinator to discuss what you are looking for to make your event one of a kind special. While we may be a small property, we know how to maximize your budget to get the most impact for your event. Take a look at the Wedding Photos and Reception Photos pages to see some of the past weddings held here at the inn. Below are standard flat fees for weddings on site. Please note that ceremonies are not allowed in the guest rooms, and all events must receive prior approval.
Pricing Information
Wedding Fees
Bride and Groom MUST be guests of The Palms Cliff House Inn.
The Simple Elegant Wedding Package is for a bride and groom only and includes your choice of minister, two lei, witnesses, and a few photographs taken by Palms Cliff House Inn Staff.
The Simple Elegant Wedding Package is the basis upon which all weddings are built. Additional guests and services are added to the base cost of the Simple Elegant Wedding package.
Simple Elegant Wedding - $975
Cliff Side: up to 5 people - $300
Cliff Side: 6 to 40 people - $50
(charge is per additional person to a maximum $1,000.00)
Use of interior of house including Bride using staircase - $250
(does not include the cost of flowers on staircase)
Reception Site fee - $250
(Main lanai for three hours: includes event and clean-up. Time not to exceed 10:00pm)
8 suites for 2 nights - $5,800
(this is for room charges only, and does not include guest incidentals or event site fees)
Damage Deposit - $500
Child care - $200
(Mandatory fee if children 12 and under are attending the wedding, fee includes care for three children, additional children will require additional child care charges. – There are no exceptions to this requirement.)
Wedding Coordinator hourly fee after initial consultation - $60/hr
(The initial consultation is the initial 1 hour consultation prior to signing the contract. Fee accrue after the initial free hour. Fees are generated for all wedding and reception related questions either by phone, in person, or by email.)
Gratuity: an 18% gratuity is added to all food services. You are responsible for tipping the minister, event staff, and entertainers.
If you have your own minister, don't want lei, photographs, witnesses, or a room to get ready in, then you can have your ceremony here for a fee of $350. (We still have to have staff available for your event, so this is the lowest fee we can charge to allow your wedding to take place here. other charges will still apply for guests, chairs, reception, etc.
Pricing Information
The Minister for Your Wedding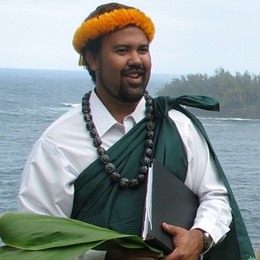 This is a beautiful Hawaiian themed wedding. Ceremony includes a brief history of ancient Hawaiian wedding customs. The Bride and Groom will exchange lei as well as present lei to parents in attendance. You can also include sharing traditional Hawaiian foods (for an additional cost). The ceremony also includes ancient chants with an explanation of their relevance to the ceremony. You will also be wrapped in a traditional Hawaiian Kapa cloth to signify your union. (You can purchase a Kapa cloth as a keepsake if you wish.)
This wedding is our most popular offering and is preformed cliff side.
Pricing Information