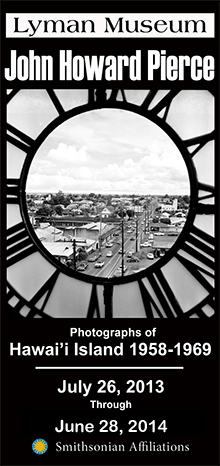 July 26, 2013 through June 28, 2014
(original closing date has been extended from January 11,2014 to June 28, 2014)
John Howard Pierce, a former Hawaii Tribune-Herald reporter and Lyman Museum curator, was an avid photographer who meticulously documented his beloved home of Hawai'i Island in the mid-twentieth century, a pivotal period defined and galvanized by the admission of Hawai'i into the United States in 1959.
The photographs in this exhibit–a small but representative sampling of the John Howard Pierce Collection–provide a view to this recent past, revealing a community ambitiously growing, changing, and constructing a new future; remembering and reclaiming its traditions; and savoring the simple pleasures of everyday life.
We invite you to view Hawai'i Island of half a century ago through the lens of John Howard Pierce, whose photographs help the Museum tell the story of Hawai'i, its islands, and its people.