The Owners
The Palms Cliff House Inn was built in 2000 and stands as a new landmark on the lush and vibrant east side of the Big Island of Hawaii.
The Inn overlooks Pohakumanu Bay. In Hawaiian, pohaku literally means rocks and manu means bird. The Koa'e Kea bird (also known as the White-tailed Tropic bird) which is almost all white with long graceful white streaming tail feathers, frequently seen over the bay soaring high, gliding in the trade winds looking for small fish to feed on. The Koa'e Kea are nests in the crevices of the surrounding rocky cliffs. Therefore, the name of the bay, Pohaku (rock), Manu (bird) refers to the Koa'e Kea that nest in the rock cliffs. Our location is the first area north of Hilo that has cliffs sutible for the birds to nest. When you enter the Inn, look to each side of the main doors. The White and black Kahili that stand guard at the entrance represent the Koa'e Kea of Pohakumanu Bay.


When we found this home in 1999 we fell in love with it right away. Can you believe it had been on the market for almost 4 months with no interest?
We felt that it would be a great location for us to realize our dream of operating an Inn. We spent the first year getting permits and building the guest wing. We opened our doors August 11, 2001 with the full support of our community and local government. The economy was pretty rough in 2001 and we were heralded for "taking a chance" on East Hawaii. That was three weeks before 9/11.

We woke that terrible morning with a phone call from our kids school principal telling us not to send the children to school, martial law had been declared in the state, all airports and harbors were closed and that the mainland was under a terrorist attract. We turned on the news just in time to see the towers fall. You see, with the time difference (six hours from the east coast) much of what happened that first day had already occurred.
As Inn keepers we dreaded our first terrible duty of waking guests with the news.

Living in a state that literally gets everything by boat or plane became a challenge those next 9 months. That's how long it took for people in general to become comfortable with traveling again and to renew visits to our fair state. It was a rough time, but we made it. I believe that was when we realized that we were in this for the "long haul" and that we were not just a fair weather business.
Needless to say, each day since has been a blessing. The longer we live here the more entrenched we become in our life here. John has experienced some truly remarkable things, having been on the sea trials for the Hokualaka'i - the Big Island's double hulled canoe, he sailed around South Point, and when he turned 50 he climbed to the summit of Mauna Kea - on foot!

Me, I have become immersed in the Hawaiian Culture, having learned (and continue to learn) at the side of some truly treasured Hawaiian Kapuna (elders). Auntie Nona Beamer embraced my willingness to learn and shared countless stories, memories, mele, and hula with me. I learned my Hawaiian feather-work from Mary Lou Kekuewa and her daughter Paulette Kahalepuna. I continued to study with Paulette after her mother passed. Sadly, Paulette has now passed too, but I am confident in the skills they taught me and the way in which they taught me to teach others to carry on their tradition.


We have many cultures to celebrate here on the Big Island of Hawaii. Summer is Bon Season, and if you are here, I hope you will join us at one of the many Bon dances held in the area. No need to dress up or know the dance steps. Come enjoy the community, good food, and fun atmosphere.

Our Inn allows us the opportunity to give back to our community as well. Sometimes we may be away from the Inn participating in or working for a laocal charitable event. Thankfully, our fantastic staff affords us that luxury. We give generously financiallyas well. Ours is not a wealthy Island, as such we recognize our responsibility ot give money as well as time, and are truly thankful that our guests are the ones who allow us to give so generously. We support the following organizations on an annual basis: Halau Na Pua O Kukui, Hospice of Hilo, Zonta of Hilo, Boys & Girls Club of Hilo, Big Island Volkswagen Club, Women's Express Networking Org., Big Island MS Charity Walk.

I still wake each morning and "pinch" myself to see if I am dreaming. Don't get me wrong, it is a lot of work. When guests comment on how young John and I are to have "retired" to the life of innkeepers, I just smile, knowing that my days are the longest I have ever worked at a job (5:00 am to 10:00pm - Really) but I would not change a thing! It is a dream come true, and I'd love to share it with you. So, won't you come for a visit?

We are currently celebrating our 15th anniversary of The Palms Cliff House Inn. On our 10th Anniversary we celebrated (and helped to stimulate the local economy) we finished an $80,000 renovation. We are proud to say that all the work was done by local small businesses, and they did a wonderful job of remodeling and refreshing the inn. Wont you come to see for yourself and join us for a special getaway.
Our Merrie Monarch Moment
The lights were warm on my skin even as a shiver of excitement traveled down my spine. I took a deep breath trying to remain calm. Looking up, I smiled as my gaze settled on Uncle, Kumu Hula Ed Collier. He smiled back and nodded, signaling me it was time to begin. With my Husband's, hand tightly clasping mine, and followed by our two sons, We approached the steps leading up to the largest, and certainly most important, stage I could have ever hoped to stand on.
Each step up the stairs revealed more of the hundreds of spectators in the audience that surrounded us. My heart was racing as we reached the top step. John let go of my hand as we stepped away from each other to stand as escorts to the 22 graceful wahine of Halau O Na Pua Kukui as they followed us up the stairs to take the stage.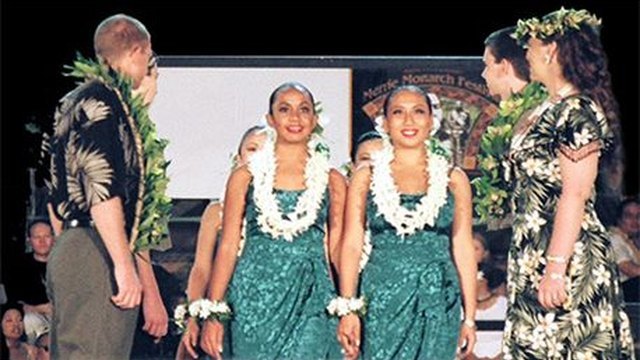 The musicians strummed the introduction and in unison the Ladies of Halau O Na Pua Kukui bowed to the Royal Court. A few more strums and the ladies turned and bowed to my husband, my two sons, and myself. My heart skipped, as it overflowed with emotion.
As I was embraced in their aloha my heart began to slow and my breathing calmed. As I watched them dance, the bright lights and hundreds of people in the audience faded away until all I could see was the beautiful hula, Ka Hale Niu O Ka Pali, telling a story of travel, struggle, friendship, and redemption in a place so special it had become a home. The Halau's Big Island home. Our home.
As they danced, I experienced what I can only describe as a perfect moment. For a few minutes, that stage, the only thing that existed in this world was love.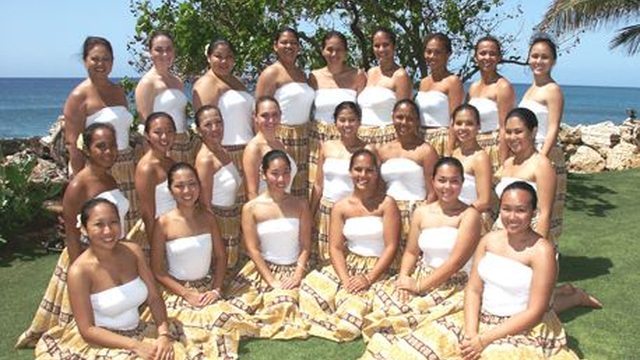 Years later I can still remember the experience, as though it happened only moments ago. The members of Halau O Na Pua Kukui are still an important part of our lives, having stayed with us many times, and sharing experiences together throughout the years. Many lives that have become intertwined.
This is why, at our Inn we say, E Ho'ea Mai He Malahini, A E He'i Mai He Hoaloha ~ Arrive as Guests, Leave as Friends. As we have shared our home with guests over the past ten years it has become impossible for us to separate guest from friend. They have become one and the same.
Hawaiian Customs
Hawaii is home to many cultures and daily life here in the islands is shaped by influences from them all. On this page we hope to share with you a few local customs (state wide) so that you can have a better understanding of the local culture and enjoy your stay even more. Remember, these are just guidelines intended to help you better enjoy your stay in the islands.
Shoes: Shoes worn outside are removed when entering a home or residence. Shoes are left outside or just inside the front door. Inside shoes may be worn, but most go bare foot or with socks on their feet.
Speaking the local lingo: Give it a try! "Aloha" for hello, "Aloha No" if you want to emphasize the welcome. Resist the temptation to say Alo-o-o-o-o-ha, you will hear this at most luaus, for some reason, they think it sounds cute, it's not. (Think Minnie Pearl with her How-deeeeeee!) "A hui ho" means till I see you again, "Mahalo" means thank you (try to say this one a lot), "Kalamai" means excuse me, "Pau" means finished, "Pau Hana" party or happy hour.

Hula: You might think Hula is just for the Luau shows, but you would be wrong. A popular saying here in Hawai'i is Hula is Life. And it is true! You can find Hula just about anywhere. If you are lucky enough to be in the islands during one of the many Hula competitions you will see the highest standards of Hula on display. But Hula is a part of everyday life as well. Some hula for fitness, some to perpetuate their cultural heratage, and some hula simply for the joy of it. Keep your eyes open, folks hula at the beach, BBQ, and I have even seen an Auntie hula in the grocery just because she loved the song on the radio!
Lei: Many visitors think the flower lei is just a "touristy" gimmick. Well, it is not. Lei are very important here and are given for birthdays, holidays, weddings, showers, as congratulations and as thank-you, and come in many forms. A visit to the lei stand at the airport can be very enjoyable just to see the variety. Feel free to wear lei while on your visit. Again, you will be appreciated for enjoying one of our local customs. Lei can be made of more than just flowers. Seed, shell and feather lei are especially valuable and treasured here in the islands. Lei can be worn on your hat, head, or around your neck. Here is my eldest son at his High School graduation, this demonstrate typical use of lei. So give one to someone you love, they are always a welcome gift.
Standing in lines: Part of what makes your experience in Hawaii so special is how nice the people are, right? Now you can share the aloha too. When standing in a line for food, the bus, or a show, don't rush to be first, here we let anyone older than ourselves go first. We also help others with their bags and parcels. If you listen, you will hear young people offer to help by saying "Auntie (or Uncle), can I get that for you" or "You first Auntie (or Uncle)" In short, anyone older than you is your Auntie or Uncle and deserves respect and assistance. It feels really good, try it. This is also a local custom that you can take home with you. You will be amazed at how warmly your actions will be received.
Standing in a crowd: Wether watching a cultural performance at the the Volcano National Park or a juggler on the beach on Maui, be aware of where you are. Are you blocking someone's view? Ask and then move aside. Is there someone older than you trying to see, offer them your spot. Locals will tend to the needs of others before they tend their own. Again, try it, it feels good, and it is another local custom you can take home with you.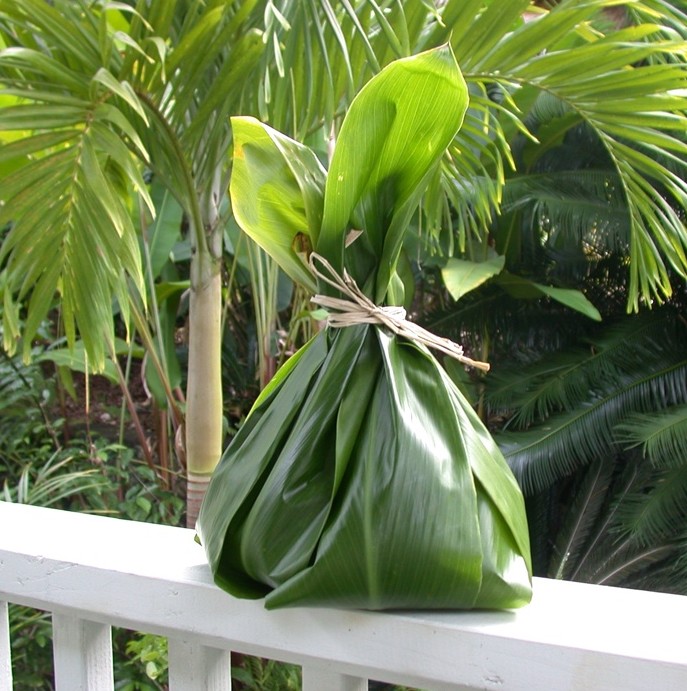 Makana: Makana (Ma-Ka-Na) is a small gift given as a thank you or acknowledgment for a favor or assistance. We give them all the time. It could be in the form of a lei or candies, or some other small token. I mention it here because this is one you can bring with you from home. What is your home known for? Saltwater taffy, a natural wonder? Well, bring a bit of home with you to share with others. That way, when someone in Hawaii does something nice for you, give them a makana from your home! It can be a sample size of something, key chain, refrigerator magnet, you name it, just something small in value. It will be greatly appreciated. And when your on your inter-Island flight, here's a fun game- look to see who is carrying makana. Do you see boxes of Krispy Kreams? Purple boxes of Big Island Candies? Handfuls of antheriums? Boxes of rainbow bread? All makana destined for others. You will be amazed at the warm reception you will receive if you participate in this local custom - but remember, keep is small, the idea is not to make the receiver feel indebted, just appreciated.
Tipping: These are state wide guidelines: Just remember one simple rule, in Hawaii, everyone gets a tip, it is not a pay-off, but rather a thank-you for service. If you get help with bags: a dollar per bag, $5.00 minimum. Get a massage: tip 15% to 20%. Your waitress gets the standard 15% to 20%. Housekeeping staff gets $2.00 per day per person in the room. Valet parking: $3.00 per pick-up and/or drop-off. Like your meal? Tip the chef too. Nice haircut or manicure? 15 to 20%. Did a kid bring you a bottle of water on the beach? $1 (Guarantee he is fundraising for their school/community sport)