August 25, 2016
Voted Best Bed And Breakfast - East Hawaii - Again!
By: Michele Gamble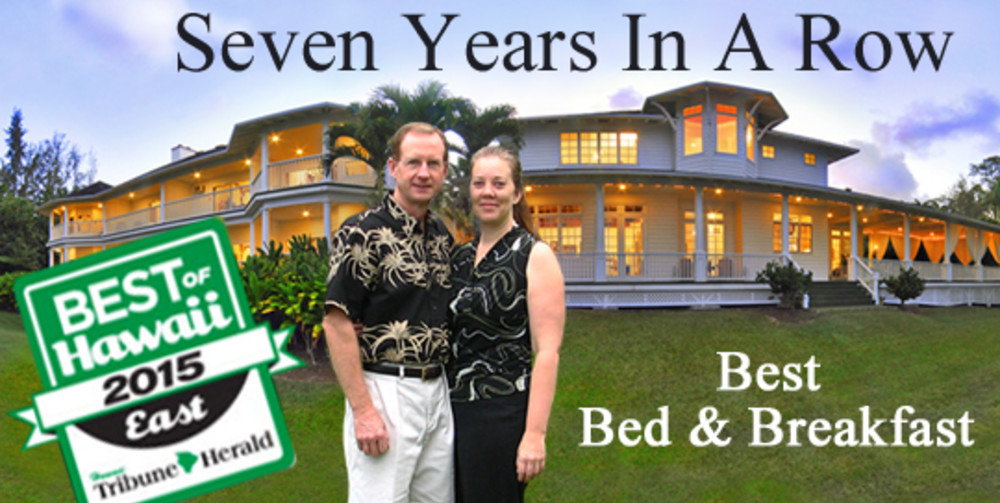 We are so proud to announce that The Palms Cliff House Inn has just been voted the Best Bed and Breakfast in East Hawaii (the Hilo area) for the seventh year in a row. Each year I am grateful and humbled that the residents of Hawaii Island continue to think of us as a step above the rest. There are so many Bed and Breakfasts out there who are working hard and providing a quality experience, so we understand what a tremendous honor it is to be given this award by the people who live here.
We are able to be so successful because we have such wonderful and dedicated staff that share our dream for this very special place. We owe this win, as we do each win, to our fabulous staff members who help us make each guests visit memorable. They are lively with stories, offer creative suggestions and are bar none the best in the business. Mahalo Nui Loa Chelsea, Darcy, Shena, Hi'ilei, Valerie, Emily, Billy and Kelly.

Celebrating sixteen years in operation we feel this is the perfect pat on the back for a job well done by our neighbors and peers. We all work so hard to provide a quality experience while still providing value for the guest. The economy here is still really tight for everyone, and yet, we are still providing value for every dollar a guest spends with us.
Come see for yourself what everyone is talking about. Come join us at The Palms Cliff House Inn.
See a full list of winners for restaurants and activities and services at: http://hawaiitribune-herald.secondstreetapp.com/l/Hilo-Hawaii-Tribune-Heralds-Voters-Choice-7/Ballot/BestBusiness